Istikhara Dua Download – Best Way to Perfom Istikhara
Istakhara is a way by which someone can seek the opinion of Allah Almighty on a specific matter. We face different kinds of confusion when we need to make big decisions in our lives. According to Sahih Bukhari, the Holy Prophet (PBUH) instructed us all that it is better to do Istakhara in order to make the best decision. Read or download Istikhara Dua below.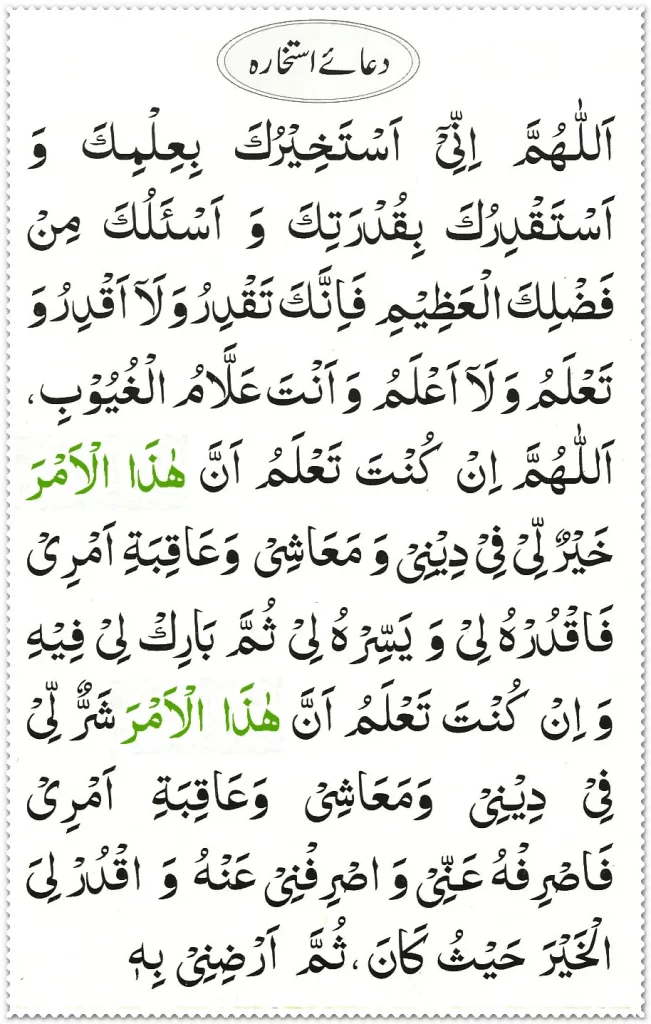 Listen to Dua e Istikhara MP3
How to Perform Istikhara
I am sharing the step-by-step guide to performing Istikhara in the best way. Follow the steps below. I am sure you will get true guidance from Allah Almighty.
1. Have a Sincere Intention:
Before starting Istikhara, make sure your intention is sincere and focused on seeking Allah's guidance in making a decision.
2. Wuzu (Wudu)
Ensure that you are in a state of ritual purity by performing Wazu.
3. Offer Two Rakat Prayer
After performing wuzu, offer two Rakats of Nafil prayer. It's preferable to pray these two Rakats at a time when voluntary prayers are allowed, not during the prohibited times (e.g., sunrise, sunset, and when the sun is at its zenith).
4. Recite the Istikhara Dua
After completing the two Rakats, recite the Istikhara dua.
Istikhara Dua with Urdu Translation
5. Repeat the Dua for Seven Days
It's instructed to repeat the Istikhara dua for up to 7 days if you do not receive a clear sign or inclination after the first prayer.
6. Pay Attention to Signs
While there may not be a direct answer or sign, pay attention to your feelings, circumstances, and events that may unfold. Allah may guide you through subtle signs.
It's important to note that Istikhara is not a magical formula that guarantees a specific outcome. It is a means of seeking guidance from Allah, and the decision-making process may still require careful consideration and consultation with others.
If you are not sure about a decision, seeking advice from knowledgeable and trustworthy individuals in your community is also encouraged in Islam.
Summary
Istikhara is the ultimate key to seeking the guidance of the Almighty. The one who seeks Allah's guide in every matter will always be successful. You can also perform Istikhara for marriage, job, career, business, etc. Don't forget to share your experience in the comment box if you have performed Istikhara.